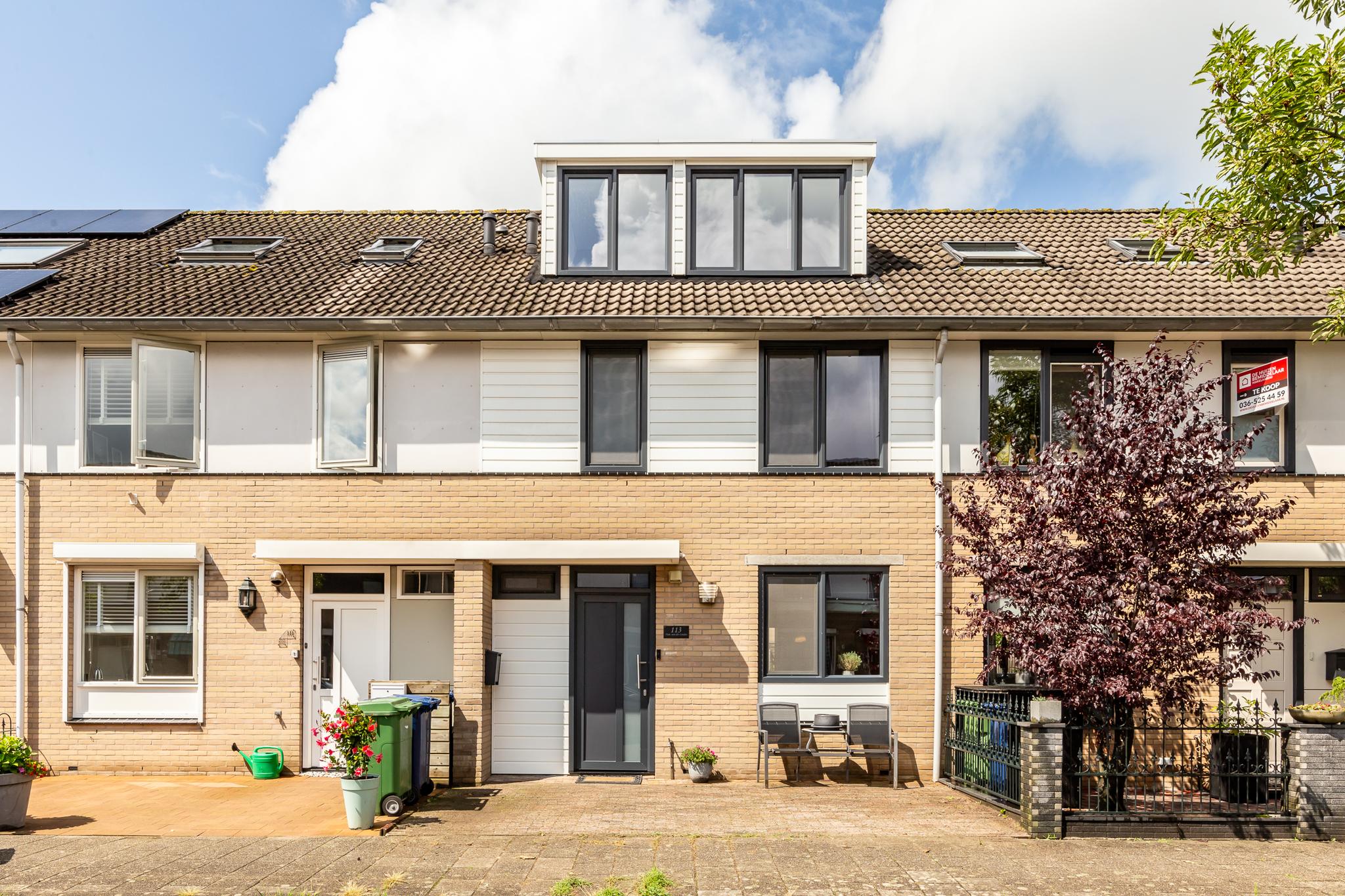 Te koop: Tussenwoning
Elvis Presleystraat 113
1311 HP Almere
Verkocht
€ 425.000,- k.k.
Energiezuinige (A-label) en future-proof gezinswoning met comfort én ruimte op een toplocatie in de geliefde Muziekwijk!
- Deze woning wordt aangeboden met een bieden vanaf prijs - For English, please scroll down -
Deze ruime tussenwoning is door de jaren heen al flink onder handen genomen en een perfecte plek voor starters en gezinnen.
In 2015 is de open keuken met inbouwapparatuur geplaatst en in 2021 is de gehele woning voorzien van kunststof kozijnen met HR++ glas en de gevelbekleding vervangen door Keralit. Dat betekend dat je hier goed voorbereid bent op de toekomst met lage energiekosten en geen onderhoud aan kozijnen en gevelbekleding!
Ook aan ruimte is er hier geen gebrek, want in 2021 zijn ook maar liefst 2 grote kunststof dakkapellen geplaatst, zowel aan de voor- en achterkant van de woning. Op de 2e verdieping vind je dan ook zeer grote slaapkamer welke zelfs kan worden gesplitst in 2 slaapkamers.
Dankzij de schuifpui en het extra raam aan de achterzijde is de living lekker licht. Je beschikt beneden over vloerverwarming, maar voor dat extra beetje sfeer tijdens de donkere dagen zit je heerlijk warm en gezellig voor de open haard.
Samengevat, een ontzettend fijne familiewoning waar de grote pluspunten al voor je gerealiseerd zijn.
Omgeving
Wonen in de Muziekwijk betekent wonen in een rustige en kindvriendelijke buurt met alle voorzieningen nabij.
Supermarkten, kinderopvang, scholen, gezondheidscentrum, sportvoorzieningen, recreatiegebied Pampushout, winkelcentrum Muziekwijk en natuurlijk het stadscentrum van Almere Centrum liggen op loop- en fietsafstand.
Het openbaar vervoer is zeer goed geregeld met een bushalte Wim Kanplein en Count Basiestraat op enkele minuten lopen afstand. Het treinstation Almere Muziekwijk bereik je met ca. 4 minuten (niet elektrisch) fietsen. In de auto rij je binnen 10 minuten de A6 op richting uitvalswegen Amsterdam/Lelystad.
We zetten de belangrijkste kenmerken voor je op een rij. Ben je geïnteresseerd? Neem contact op voor een bezichtiging, wij laten je graag alles zien.
Kenmerken
- Tussenwoning
- Bouwjaar 1992
- Woonoppervlak 119m2
- Perceel 128m2
- Energielabel A, volledig geïsoleerd en aangesloten op de stadsverwarming
- Volledig voorzien van kunststof kozijnen, schuifpui, extra raam beneden allen met HR++ glas (2021)
- Gevelbekleding vervangen door Keralit (2021)
- 2 grote dakkapellen met HR++ glas aan voor- en achterzijde (2021)
- Lichte woonkamer met vloerverwarming, open haard, schuifpui en extra raam aan achterzijde
- Moderne en open keuken met inbouwapparatuur waaronder inductie kookplaat, koelkast, vriezer, vaatwasser en oven (2015)
- 4 ruime slaapkamers (5e slaap- of werkkamer te realiseren op 2e verdieping)
- Badkamer met toilet, douche en wastafel in meubel
- Verzorgde achtertuin met zonnescherm, vrijstaande houten berging en achterom gelegen op het Westen
- Op loop- en fietsafstand van voorzieningen, winkels, scholen, openbaar vervoer en nabij uitvalswegen A10/N702
- Oplevering in overleg
- Getoonde prijs betreft een bieden vanaf prijs
------
Energy efficient (A-label) and future-proof family home with comfort and space in a prime location in the popular residential district 'Muziekwijk'!
- This property is offered with an offer from price -
This spacious townhouse has been renovated over the years and is a perfect place for starters and families.
In 2015 the open kitchen with built-in appliances was installed and in 2021 the entire house is equipped with plastic window frames with HR++ glass and the cladding replaced with Keralit. That means you are well prepared for the future here with low energy costs and no maintenance on window frames and cladding!
There is also no lack of space here, because in 2021 no less than 2 large plastic dormers were installed, both at the front and rear of the house. On the 2nd floor you will therefore find very large bedroom which can even be split into 2 bedrooms.
Thanks to the sliding doors and the extra window at the rear, the living room is very light. Downstairs there is floor heating, but for that extra bit of atmosphere during the dark days you can sit warm and cozy in front of the fireplace.
In short, a very nice family home where the major advantages have already been realized for you.
Surroundings
Living in the Muziekwijk means living in a quiet and child-friendly neighborhood with all amenities nearby.
Supermarkets, child care, schools, health center, sports facilities, recreation area Pampushout, shopping center Muziekwijk and of course the city center of Almere are within walking and biking distance.
Public transportation is very well arranged with a bus stop Wim Kanplein and Count Basiestraat a few minutes walk away. The train station Almere Muziekwijk you reach with about 4 minutes (not electric) cycling. In the car you drive within 10 minutes on the A6 towards arterial roads Amsterdam/Lelystad.
We list the most important features for you. Are you interested? Contact us for a viewing, we are happy to show you around.
Features
- Courtyard house
- Built in 1992
- Living area 119m2
- Parcel 128m2
- Energy label A, fully insulated and connected to district heating
- Fully equipped with plastic window frames, sliding doors, extra window downstairs all with HR++ glass (2021)
- Wall cladding replaced by Keralit (2021)
- 2 large dormers with HR++ glass at front and rear (2021)
- Bright living room with floor heating, fireplace, sliding doors and additional window at rear
- Modern and open kitchen with appliances including induction hob, fridge, freezer, dishwasher and oven (2015)
- 4 spacious bedrooms (5th bedroom or study to realize on 2nd floor)
- Bathroom with toilet, shower and washbasin
- Well-kept backyard with awning, detached wooden shed and back located on the West
- Within walking and biking distance of amenities, stores, schools, public transportation and near roads A10/N702
- Delivery in consultation
- Shown price is an offer from price
Overdracht
Vraagprijs:

€ 425.000,- k.k.

Status:

Verkocht

Aanvaarding:

In overleg
Bouw
Soort:

Eengezinswoning

Bouwvorm:

Bestaande bouw

Bouwjaar:

1992

Dak type:

Zadeldak
Oppervlakten en inhoud
Wonen:119 m2
Overige inpandige ruimte:0 m2
Gebouwgebonden buitenruimte:0 m2
Perceel:128 m2
Inhoud:405 m3
Indeling
Aantal kamers:

5

Aantal badkamers:

1

Aantal slaapkamers:

4

Voorzieningen:

Mechanische ventilatie, TV kabel, Schuifpui, Dakraam, Glasvezel kabel, Natuurlijke ventilatie
Energie
Energieklasse:

A

Isolatievormen:

Volledig geïsoleerd, HR glas

Soorten verwarming:

Stadsverwarming, Open haard, Vloerverwarming gedeeltelijk

Soorten warm water:

Stadsverwarming
Buitenruimte
Liggingen:

Aan rustige weg, In woonwijk

Tuintypen:

Achtertuin, Voortuin

Hoofdtuin:

Achtertuin

Hoofdtuin opp.:56 m2
Hoofdtuin positie:

West

Achterom:

Ja
Bergruimte
Soort:

Vrijstaand hout

Voorzieningen:

Voorzien van elektra
Parkeergelegenheid
Parkeer faciliteiten:

Openbaar parkeren
Kadastrale gegevens
Gemeente:

Almere

Perceel:

1664

Oppervlakte:128 m2
Eigendomssituatie:

Volle eigendom