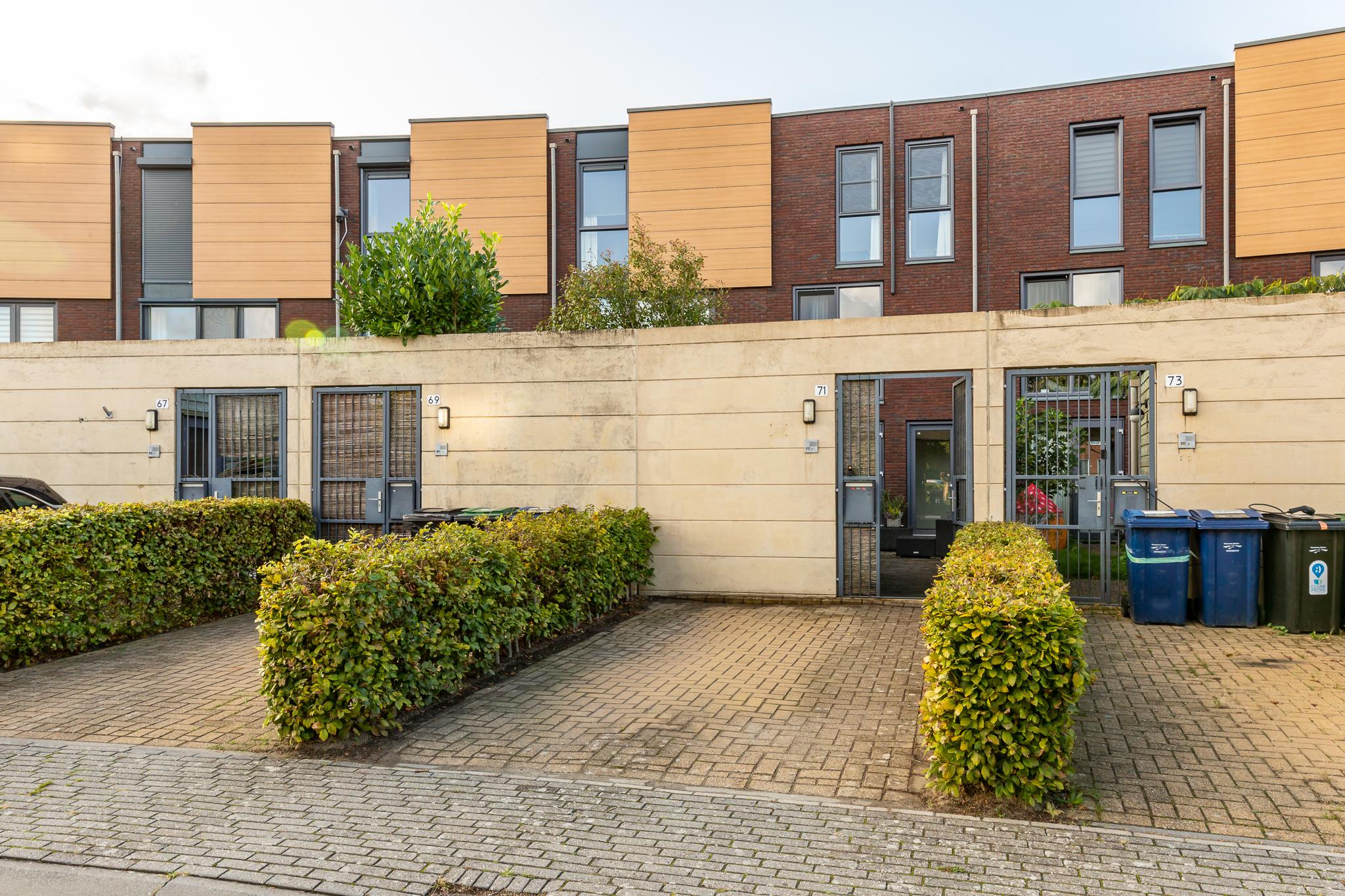 Te koop: Tussenwoning
Lucky Lukestraat 71
1336 MK Almere
Verkocht
€ 395.000,- k.k.
Leuke starterswoning aan het water met eigen parkeerplaats in de Stripheldenbuurt!
- For English, please scroll down -
Deze tussenwoning beschikt over 3 slaapkamers, waarvan een met airconditioning, een open keuken en meer dan genoeg buitenruimte. Met een fijne tuin op het Zuid-Oosten, terras aan het water en dakterras op de 2e verdieping geniet je niet alleen overdag van de zon, maar ook van het avondzonnetje.
De nieuwe CV-ketel komt uit 2023 en de woning is vanuit de bouw in 2007 volledig geïsoleerd. Je hebt hier een laag energieverbruik met energielabel A. Ook leent het platte dak zich perfect voor zonnepanelen!
Aan de voorzijde van de woning parkeer je de auto op jouw eigen parkeerplaats of openbaar in de straat. Tevens beschikt het plantsoen aan de voorzijde over een speeltuin voor de kids.
We zetten de belangrijkste kenmerken van de woning voor je op een rij. Ben je nieuwsgierig en wil je komen kijken? Neem contact op voor een bezichtiging, we laten je graag alles zien.
Kenmerken
- Tussenwoning
- Bouwjaar 2007
- Energielabel A, volledig geïsoleerd
- Woonoppervlak 102m2
- Perceel 106m2
- Gelegen aan het water met terras en dakterras waar je geniet van de ondergaande zon
- 3 ruime slaapkamers, waarvan een met airconditioning
- Badkamer met inloopdouche, wastafel en toilet
- Aparte wasruimte met aansluiting wasmachine/droger en opstelling CV-ketel (2023)
- Gunstig gelegen tuin met vrijstaande berging en toegang tot de eigen parkeerplaats
- Kindvriendelijke woonwijk met diverse speelvoorzieningen in de buurt
- Nabij kinderopvang, scholen, supermarkt, Oostvaardersplassen en openbaar vervoer
- Goede verbinding met uitvalswegen A6/A27 richting o.a. Amsterdam/Utrecht/Lelystad
- Oplevering in overleg
Omgeving
De Stripheldenbuurt is groene en kindvriendelijke woonwijk met alle voorzieningen dichtbij. Denk hierbij aan winkels, supermarkten, kinderopvang, scholen, gezondheidscentrum en uiteraard het openbaar vervoer.
Op korte afstand vind je o.a. natuurgebied Oostvaardersplassen en ook de activiteitenzone gelegen op De Evenaar. Hier kan iedereen zijn energie kwijt op een voetbalveld, basketbal-, tennis- en een spectaculaire skatebaan. Voor de kleinere kinderen zijn meerdere speeltuintjes in de wijk te vinden.
Door de ligging van deze woning op een schiereiland, nabij vaarwater en met een overvloed aan natuur wordt dit deel van de wijk als een klein, gezellig dorp ervaren. Dat fijne woonwijk gevoel vind je hier dus zeker.
De bushalte ligt op ca. 550m welke in verbinding staat met treinstation Almere Buiten. Met de auto rij je via de N702 binnen 5 minuten de A6 op richting Amsterdam, Lelystad, Utrecht en omgeving.
- - - - - - - -
Nice starter home on the water with private parking in the 'Stripheldenbuurt'!
This townhouse features 3 bedrooms, one with air conditioning, an open kitchen and more than enough outdoor space. With a nice garden on the South East, waterfront terrace and roof terrace on the 2nd floor, you will not only enjoy the sun during the day, but also the evening sun.
The new central heating boiler is from 2023 and the house is fully insulated from construction in 2007. You have a low energy consumption here with energy label A. Also, the flat roof is perfect for solar panels!
At the front of the house you can park your car on your own parking space or publicly in the street. Also, the park at the front has a playground for the kids.
We list the main features of the house for you. Are you curious and want to come and take a look? Contact us for a viewing, we are happy to show you around.
Features
- Townhouse
- Built in 2007
- Energy label A, fully insulated
- Living area 102m2
- Plot 106m2
- Located on the waterfront with terrace and roof terrace where you can enjoy the setting sun
- 3 spacious bedrooms, one with air conditioning
- Bathroom with shower, sink and toilet
- Separate laundry room with washer / dryer and central heating boiler (2023)
- Conveniently located garden facing South East with detached shed and access to private parking
- Child friendly neighborhood with several playing facilities in the neighborhood
- Near childcare, schools, supermarket, Oostvaardersplassen and public transport
- Good connection with roads A6/A27 towards Amsterdam / Utrecht / Lelystad
- Delivery in consultation
Surroundings
The Stripheldenbuurt is green and child friendly neighborhood with all amenities nearby. Think of stores, supermarkets, childcare, schools, health center and of course public transport.
A short distance away you will find nature reserve Oostvaardersplassen and also the activity zone located on De Evenaar. Here everyone can expend their energy on a soccer field, basketball, tennis and a spectacular skate track. For smaller children, several playgrounds can be found in the neighborhood.
Because of the location of this house on a peninsula, near waterways and with an abundance of nature, this part of the neighborhood is experienced as a small, cozy village. That fine residential area feeling you will find here for sure.
The bus stop is about 550m away which is connected to the train station Almere Buiten. By car you drive via the N702 within 5 minutes on the A6 towards Amsterdam, Lelystad, Utrecht and surroundings.
Overdracht
Vraagprijs:

€ 395.000,- k.k.

Status:

Verkocht

Aanvaarding:

In overleg
Bouw
Soort:

Eengezinswoning

Bouwvorm:

Bestaande bouw

Bouwjaar:

2007

Dak type:

Plat dak
Oppervlakten en inhoud
Wonen:102 m2
Overige inpandige ruimte:0 m2
Gebouwgebonden buitenruimte:14 m2
Perceel:106 m2
Inhoud:365 m3
Indeling
Aantal kamers:

4

Aantal badkamers:

1

Aantal slaapkamers:

3

Voorzieningen:

Mechanische ventilatie, TV kabel, Airconditioning, Frans balkon, Glasvezel kabel, Natuurlijke ventilatie
Energie
Energieklasse:

A

Isolatievormen:

Dakisolatie, Muurisolatie, Vloerisolatie, Dubbelglas, Volledig geïsoleerd

Soorten verwarming:

CV ketel

Soorten warm water:

CV ketel

CV ketel type:

Nevit
Buitenruimte
Liggingen:

Aan water, Aan rustige weg, In woonwijk

Tuintypen:

Voortuin, Zonneterras

Hoofdtuin:

Voortuin

Hoofdtuin opp.:45 m2
Hoofdtuin positie:

Zuidoost

Achterom:

Nee
Bergruimte
Soort:

Vrijstaand hout

Voorzieningen:

Voorzien van elektra
Parkeergelegenheid
Parkeer faciliteiten:

Openbaar parkeren, Op eigen terrein

Parkeren capaciteit:

1
Kadastrale gegevens
Gemeente:

Almere

Perceel:

1878

Oppervlakte:106 m2
Eigendomssituatie:

Volle eigendom